Surface Coatings and Wood Interiors
Express Your Creative Vision Brilliantly
Think of Quaker Residential as your design partner. You know exactly how you want your home to look and we're here to help you translate those ideas into breathtaking reality with popular or exclusive wood-interior windows and doors in the exact finishes and colors you need.
Talk to us about your next home building project. We take away the guesswork so that nothing is left to chance. The design elements you see with your imagination you'll soon clearly see with your eyes.
Surface Coatings and Finishes
Quaker Residential offers three advanced exterior surface coating systems—paints for vinyl, powder coatings, and anodized surfaces. These are preferred for treatment of architectural surfaces.
Quaker Residential's heat-reflective and tough-as-nails polyurethane top-coat paints invest your vinyl frames and components with exceptional beauty and remarkable durability.
These paints are formulated with a special polyurethane base. They are available in finishes ranging from satin to gloss and in an array of colors—including metallics. Backed by a limited 15-year warranty, our high-performing paints resist cracking, peeling, chalking, delaminating, blistering, flaking, marring, aging, distortion, warping, and ultraviolet discoloration. They also greatly diminish the risk of heat-gain thanks to the particular pigments it contains.
We've confirmed the stellar attributes of these environmentally safe, lead-free, and no-chromates paints through an independent testing facility approved/certified by the Fenestration & Glazing Industry Alliance (FGIA, formerly the American Architectural Manufacturers Association). This testing established that the paints meet two demanding standards: FGIA/AAMA 615-05 (Voluntary Performance Requirements and Test Procedures for Organic Coatings on Plastic Profiles) and the draft version of FGIA/AAMA 615 (Voluntary Specification for High Performance Organic Coatings on Plastic Substrates).
An attractive yet durable powder coating in almost any color can be applied to your choice of Quaker Residential windows and doors (for even greater creative effect, consider our two-tone powder coatings featuring separate colors inside and out).
Compared to liquid paints, powder coatings endow window and door surfaces with an attractive, lustrous appearance and make them even more resilient. The application process involves electrostatically charging colored powder and spraying it onto the aluminum substrate.
Our state-of-the-art aluminum window powder-paint facility is among the largest in the nation, with unmatched in-house expertise that consistently delivers stunningly attractive powder-coated surfaces.
Powders we use meet or exceed the rigorous FGIA (AAMA) 2604 standard. If you prefer, we can upgrade by special order to the even-more exacting FGIA (AAMA) 2605 standard. Powders that meet either of these standards are excellent choices for aluminum surfaces.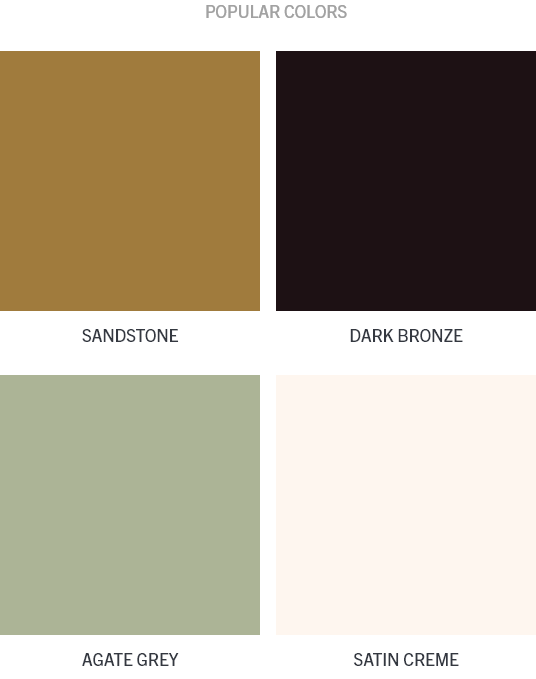 Powder Coatings: Environmentally friendly​
The powder-coating application process we use is kind to our planet. For one, almost all of the overspray is recaptured in order to help keep the earth pristine. Just as important, the powder coatings themselves are of a type that emits nearly zero airborne VOCs (volatile organic compounds) so that the sky stays clean and healthy.
Heat Reflective Paint Additive
Our optional Heat Reflective paint can help cool your sun-exposed window and door exteriors. Heat Reflective paint contains an innovative additive that does for window frames and doors what Low-E does for glass panes. It repels excessive solar heat, reducing surface temperatures by as much as 15%. As a result, the potential for transference of thermal heat through your windows and doors is appreciably diminished.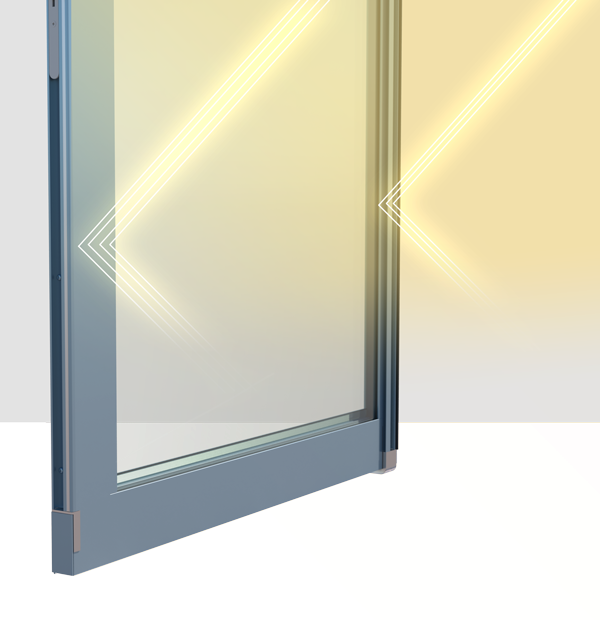 Class I Anodized Surfaces​
For aluminum window frames that will be exposed nonstop to particularly brutal outdoor conditions, Quaker Residential offers a high-performance finish in the form of a specialized anodic coating.
This anodic coating is translucent, meaning you can see the aluminum underneath. The anodizing gives the metal a deep, rich, metallic appearance impossible to achieve with organic coatings.
Significantly, anodized surfaces never peel since the process makes the coating part of the metal itself. As well, anodized surfaces are impervious to the effects of sunlight.
All our anodized surfaces are rated as Class I (the highest possible for continuous exposure to the elements). To attain a Class I rating, the anodization must exhibit a durable mil thickness of at least 0.7 (18 microns). Class I-rated anodized surfaces are highly desirable for use along the seacoast because of their greater resistance to corrosion from salt particulates in the air. They also are favored in congested urban areas owing to their ability to withstand grime and vehicle exhaust fumes.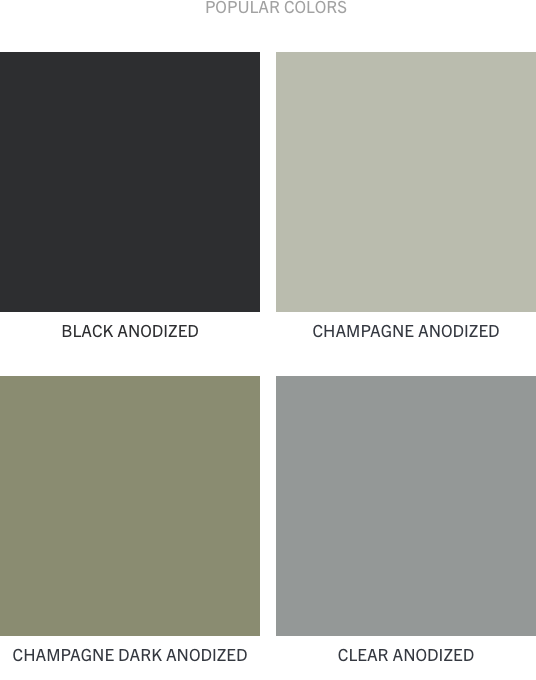 Interior wood trim can give your rooms a glowingly inviting and natural feel. That's why we maintain a ready selection of interior wood trims in the most popular species and go all-out to help you find an exotic species if you prefer.
In addition to a variety of trims, we also offer a large palette of finishes. With Quaker Residential, it's all about choice—yours.
And don't forget that energy efficient Quaker Residential windows carry some of the lowest U-Factor ratings on the market, making them your best choice for more comfortable wintertime rooms.