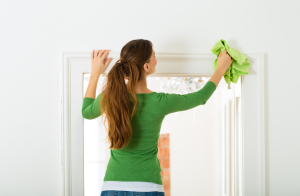 The first day of spring is a great time to give your windows a fresh start by dusting off the winter months and giving them a thorough cleaning. Here are a few tips to brighten up your view and enjoy the warmer months ahead.
Gather your supplies: You will need a glass cleaner, a squeegee, a microfiber cloth or paper towels, a bucket of warm water, and a cleaning solution (if desired).
Remove any screens: Take off any screens from your windows and clean them separately using soap and water. Rinse them off and let them dry completely before putting them back in place.
Dust and vacuum the window sills: Use a soft cloth or vacuum to remove any dirt, dust, or debris from the window sills.
Clean the windows inside and out: Spray your cleaning solution or glass cleaner on the window and use a squeegee to remove the cleaning solution from the glass. Start at the top of the window and work your way down, wiping the squeegee blade with a clean cloth or paper towel after each pass. Use a microfiber cloth or paper towel to dry any excess moisture or streaks. For Double Hung windows, you can use the tilt-in function to make cleaning the outside easier. 
Wipe down the frames and tracks: Use a damp cloth or paper towel to wipe down the frames and tracks of the window, removing any dirt or debris.
Enjoy the view: Once you have cleaned all of your windows, take a step back and enjoy the fresh sparkling clean view of the outdoors.
By following these tips, you can make your Quaker Windows look their best this spring and enjoy the fresh air and sunshine of the new season.