Replacement Window Shopping
With this past winter a fading memory, it's always easy to forget the vows we took when recent temperatures were in single digits. From getting a better ice scraper to buying warmer gloves to replacing old windows, you probably mumbled a few impulsive declarations between November and February.
So now here we are in Spring. The ice scraper is buried under your car seat. Those holey gloves are tucked in your winter coat…which is stashed in your closet. Out of sight. Out of mind. But those windows. You see those old windows every day. Maybe the time has come to finally keep that promise and replace those old windows before Ol' Man Winter returns. But where do you start since you don't buy windows every day? Well, here are some things to think about when you start window shopping: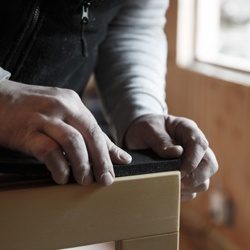 Vinyl windows vs. wood windows?
Replacement windows for homes are traditionally made of either vinyl or wood. Vinyl products have a contemporary look and feel, traditionally offer slightly better energy-performance (U-Value, Solar heat gain, etc.), and they're basically maintenance-free. Meanwhile wood products have a warm, natural look mixed with good energy-performing values. Wood windows also have an aluminum or vinyl exterior that is virtually maintenance-free which protects the window's wood from the elements.
One other possibility is aluminum replacement windows, however aluminum replacement windows are traditionally used in commercial applications and are made for structural integrity instead of extreme energy efficiency.
Simply put, this is a matter of personal taste. Most people believe a window is a window is a window. But truthfully, all window products have different designs and nuances. Find a product that you think will look equally as pleasing when you pull up to your home as it does when you're sitting inside your home.
Make sure you choose new windows that operate the way that best suits you and your home. As you stand in a window showroom, have the salesman show you how to operate the window correctly. Open and close the window several times. Work the locks. If cleaning windows is part of your yearly agenda, get windows that are easy to tilt-in. Make sure the areas you'll be cleaning are convenient to reach. Screens should be firmly rolled but easy to remove come cleaning-day.
Energy-Efficiency & Performance
If energy-efficiency is your top priority, look for products that meet Energy Star® requirements. This leads to the next question:  Whose windows are the most energy-efficient.  If you want to compare window performance, it's actually quite easy.  You can thank the National Fenestration Ratings Council® (NFRC) for making it so.
The NFRC (www.nfrc.org) is a non-profit organization created by the window, door and skylight industry. Its primary goal is to provide accurate information to measure and compare the energy performance of window & door products. While the NFRC does NOT distinguish between a "good" window and a "bad" window, they set minimum performance standards or performance levels. It has directed window & door manufacturers to display their product's performance by implementing the use of stickers on residential windows and doors. These "NFRC" stickers allow you to easily compare the performance levels of competing windows. An NFRC sticker contains 4 test values. While each has an official definition, we'll give you the laymen's description.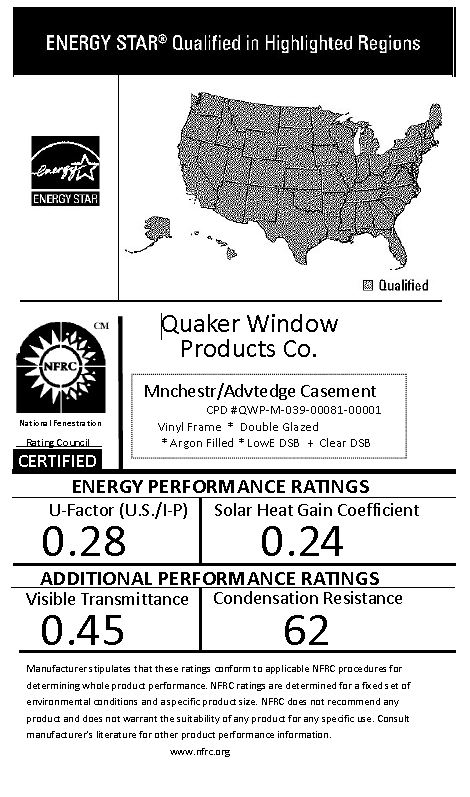 U-Factor: This is also known as the U-Value.  The U-Value measures how well a window or door prevents heat from escaping. Remember:  Lower is better when comparing U-Values.
Solar Heat Gain Coefficient ( SHGC). SHGC measures how well a window or door blocks heat caused by sunlight. SHGC is expressed as a value between 0 and 1.  Remember:  Lower is better when comparing SHGC.
Visible Light Transmittance (VT): The VT measures how much light comes through a window or door. VT is expressed as a number between 0 and 1. The higher the VT, the more light being transmitted.
Condensation Resistance (CR): CR measures the ability of a window or door to resist the formation of condensation on the interior surface of that product.  CR is expressed as a number between 0 and 100.  Remember: the higher the CR rating, the better.
It's important that when you use the NFRC sticker to evaluate windows, that it's a true "apples-to-apples" comparison. Don't compare vinyl windows with wood windows. Don't compare windows with doors. Most importantly, don't compare a window with standard glass to a window that has specialty or Low-E glass. Different glass types can make a huge difference in the values shown on the sticker and can skew the comparison. Always check the NFRC sticker. It will tell you the glass make-up of the product you're assessing. If you're not sure, ask.
Almost anything you buy these days has numerous optional features available.  Windows are no different.  But no matter what type of window you choose, the three options you'll definitely need to decide on are:
– What color do you want?
– Do you want muntins or grids?
– What type of glass do you want?
While colors and grids are a matter of personal liking, I would strongly recommend that you upgrade to Low-E glass if at all possible.  The minimal cost you would pay for Low-E will be recouped very quickly with the amount of energy you save.  Low-E glass earns its keep year round.  In warmer months, it repels up to 50% more unwanted solar energy than standard clear glass.  As a result, air conditioning expenses are lowered.  In the winter, it actually keeps heat from escaping, lowering your heating bills and providing you a more comfortable living environment.  In all seasons, it is constantly blocking 75-80% of harmful UV rays that can damage or fade your home furnishings.
If you plan on replacing the windows yourself, get as much information as possible before you start. You may want to talk to someone at your local lumber yard for advice or explore the Internet for helpful tips. You'll also want to check your windows for detailed installation instructions when they arrive.
If you plan on getting a professional to do the installation, there are several necessities that will make the process work smooth for everyone. The website www.remodeler101.com has several good ideas on picking the right contractor for you.
One thing to remember: proper installation is a must. Improper installation will, more than likely, lead to costly problems down the road.
Regular maintenance is hugely important on any type of operable product, windows included. This means more than just regular glass cleaning. Here are some things you can do on a periodic basis that will help your windows operate and perform better.
Regular maintenance is hugely important on any type of operable product, windows included. This means more than just regular glass cleaning. Here are some things you can do on a periodic basis that will help your windows operate and perform better.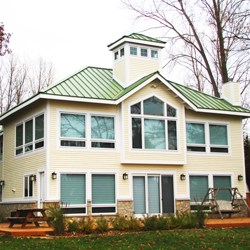 – On operable windows, vacuum or blow out dirt and debris from sill and track.
– Clean window and door frames with a mixture of mild dish soap (ex. Ivory). Avoid harsh abrasive cleaners as they may cause permanent damage.
– Make sure drainage or "weep holes" are clear of dirt and debris both inside and out of the bottom frame. Dirt and debris can accumulate in these weep holes and reduce, or in some cases, eliminate the window/door's ability to drain rainwater away from the window.
– Do not use insecticides (bug spray) on or near window surfaces.
– Never use petroleum cleaners, razor blades, putty knifes or abrasive pads to clean the glass.
– Do not use high-pressured spray nozzles when rinsing your windows after washing.
– Try to avoid glass cleaners that are ammonia or alcohol based. These may leave streaks. Instead, use a lint-free cloth or chamois, and clean your glass with a mixture of mild dish soap and water.  Rinse completely with clear water then wipe dry  with a soft cloth to avoid water spots.
– To remove grease from the glass, use mineral spirits sparingly, then wash with a vinegar based  solution (10% vinegar and 90% water).
– Lubrication of hardware components, tracks and rollers should be done periodically.
– Check weatherstripping around operable window and door panels to ensure a good seal.
– Inspect exterior and interior silicon/caulk seals to ensure no breaks. If cracks in the seal exist, repair immediately to prevent  possible water penetration.
– Clean your screens by first removing, then washing on a flat surface. Clean screen surfaces with mild soap water.  Rinse, pat  dry and reinstall.
All of these will help your windows and doors operate better and perform at top capacity.
Now that you're armed with information, it's time to start window shopping.  While you're out, don't forget to pick up some gloves and a new ice scraper.
Credits:
Quaker Window Products  www.quakerwindows.com
National Fenestration Ratings Council®  www.nfrc.org,
Energy Star®  www.energystar.gov